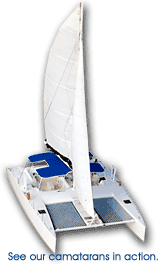 At Paradise Catamarans, we're in the business of creating memories to last a lifetime. The Riviera Maya is our home, and we'll treat you to an experience you won't find anywhere else. Whether you're looking forward to a snorkeling charter in the warm waters of the Caribbean or a private sunset cruise under tropical skies, we promise you an adventure to remember.
If you want the Mexican Caribbean all to yourself, there's no better place to escape than aboard one of our catamarans for a private charter. Snorkel, swim, or sit back and soak up the sun -- it's your tour. We specialize in weddings, family reunions, memorial services, corporate events, and other special occasions. In fact, we're the only tour operator on the Mayan Riviera whose business is devoted solely to conducting private cruises.
We operate half-day snorkeling charters in both the morning and afternoon. For those who would prefer not to get wet, we offer sunset sailing charters that will allow you to soak in the magnificent beauty and gentle breezes of the Mexican Caribbean at a relaxed pace.
On the water or aboard our boat, you'll appreciate our commitment and dedication to our guests. All of our tours are safe, accessible, affordable, and fun for everyone. Above all, we insist that our guests leave happy.
The Paradise Catamarans difference is no accident. We limit the size of our tours so we can provide our guests personalized attention. You'll understand what we mean as soon as you step aboard one of our customized boats.
We take special pride in our catamarans. You'll not only marvel as the sails fill with the breezes of the Caribbean, but also appreciate the cleanliness and comfort of the 46-foot Paso Doble and the 75-foot Pacific Breeze. The same high standards extend to our professional, English-speaking guides and top-quality equipment.
We also offer two convenient locations. The 46-foot Paso Doble, is docked in the marina in Puerto Aventuras, just south of Playa del Carmen. The 75-foot Pacific Breeze sails out of Marina El Cid in Puerto Morelos, roughly midway between Playa del Carmen to the south and Cancun to the north.
In short, we've thought of just about everything to ensure that your time with us is nothing but fun.
Use our online reservation system to book your tour with Paradise Catamarans. It's quick, easy, and secure.
---
Twenty years from now you will be more disappointed by the things that you didn't do than by the things that you did do. So throw off the bowlines. Sail away from the safe harbor. Catch the trade winds in your sails. Explore, Dream, Discover.
--Mark Twain
What Our Customers Say About Us...
"Thank you for an unforgetable wedding celebration."
Paradise Catamarans is a top notch company! Booking with them was a breeze, they were very easy to communicate with, and we were blown away by their service! We rented a catamaran for a 4-hour afternoon snorkel trip to celebrate our wedding. We had 25 people on the trip and each and every person could not have said better things about the trip! The crew was amazingly skilled and friendly, the boat was gorgeous, the food was delicious, the snorkeling was beautiful, and they had a few fun and considerate surprises up their sleeve in honor of our wedding! Overall, we were thrilled and it was certainly one of the highlights of our 10-day stay in Tulum. We were extremely impressed and highly recommend Paradise Catamarans...thank you for an unforgetable wedding celebration and helping make our trip to Mexico the trip of a lifetime!

Sarah B.
West Des Moines, IA
May 31, 2011
Visit our testimonials section to read more about the experiences of our customers or post your own testimonial.
Questions About Booking With an Independent Company?
We understand your apprehension. Making a reservation with an unknown company in a far-away location requires a leap of faith. We're here to do everything possible to address your concerns, starting with the most important questions:
How big are your catamarans?
The Paso Doble is considered a mid-size catamaran, measuring 46 feet in length. Our boat can comfortably accommodate 50 passengers, plus our crew. The Pacific Breeze is considerably larger, with a length of 75 feet and a capacity of 80 guests. Many of the catamarans that sail the Mexican Caribbean are large-size vessels, with capacity for 100 or more passengers. We feel that the size of the Paso Doble and the Pacific Breeze offers a more intimate setting and allows us to maintain our well-established reputation for quality service.
What is your safety record?
Safety is our top priority. Our tours are generally smaller than those operated by the cruise ships and our staff is highly professional. At minimum, each of our snorkel guides is certified in rescue diving and most are full-fledged divemasters. They have also received extensive training in first aid, including CPR. We keep our first aid kit well stocked and carry oxygen on board.
Visit our FAQs section for more answers to frequently asked questions about booking your tour in the Mexican Caribbean.